Author and editor, Terry Hojnacki
will be sharing her stories and talking publishing
at Macomb College's Center Campus
February 21 @ 6 PM
in the University Center.

Join Terry
and the Creative Writing students
for WORDcraft.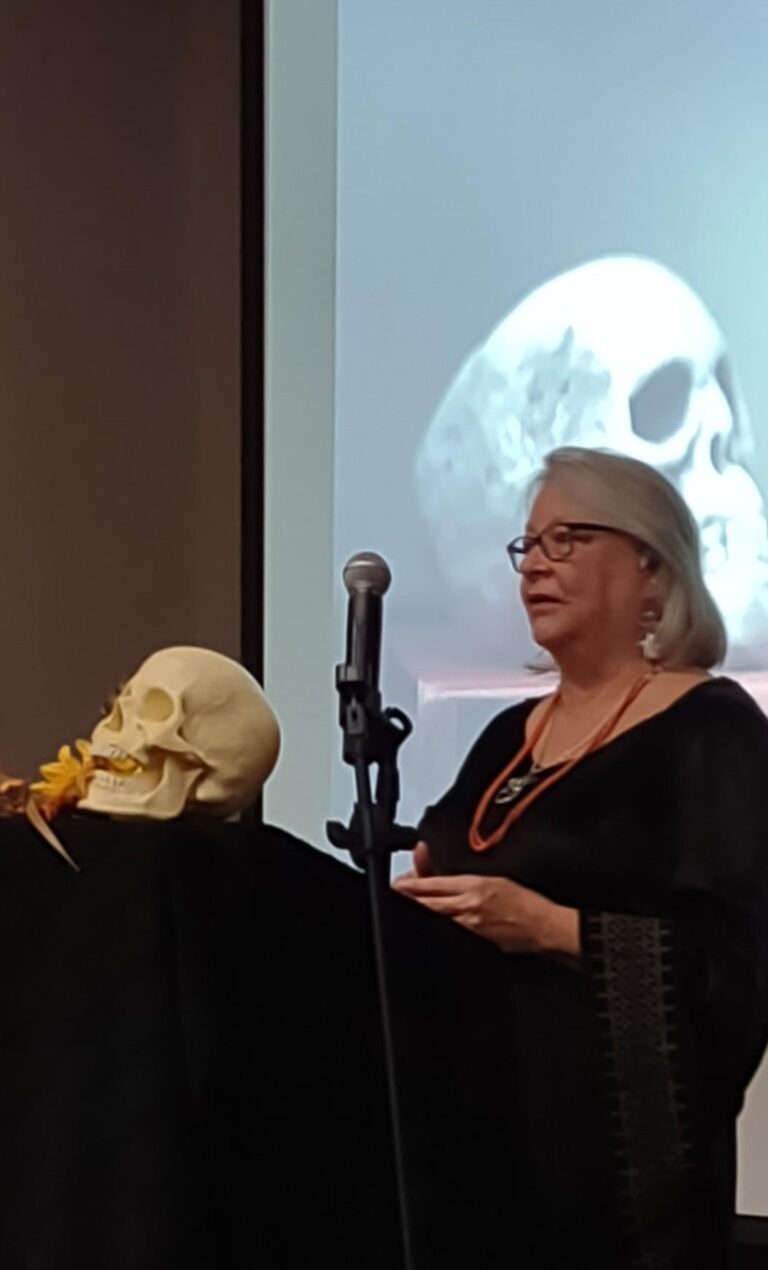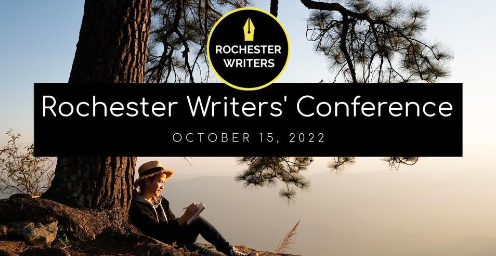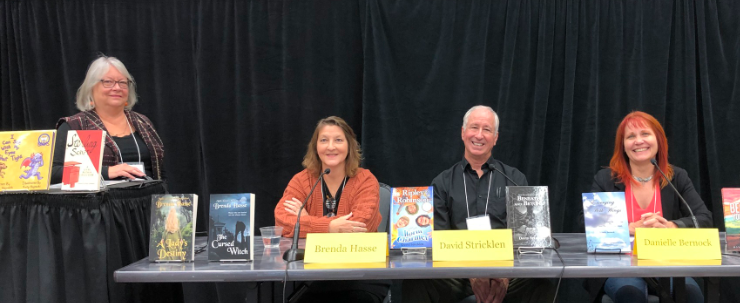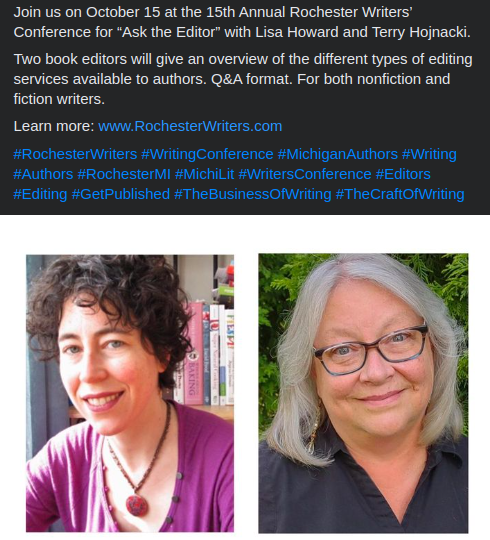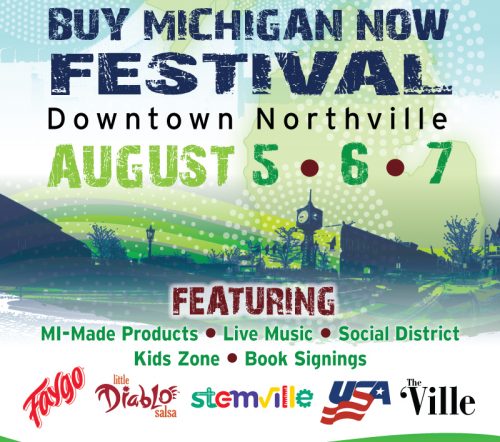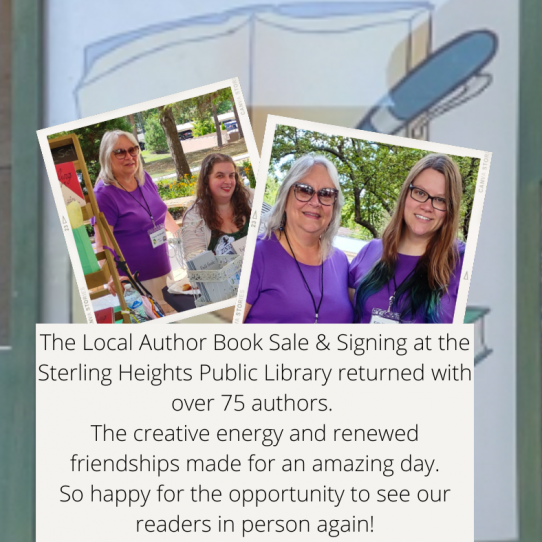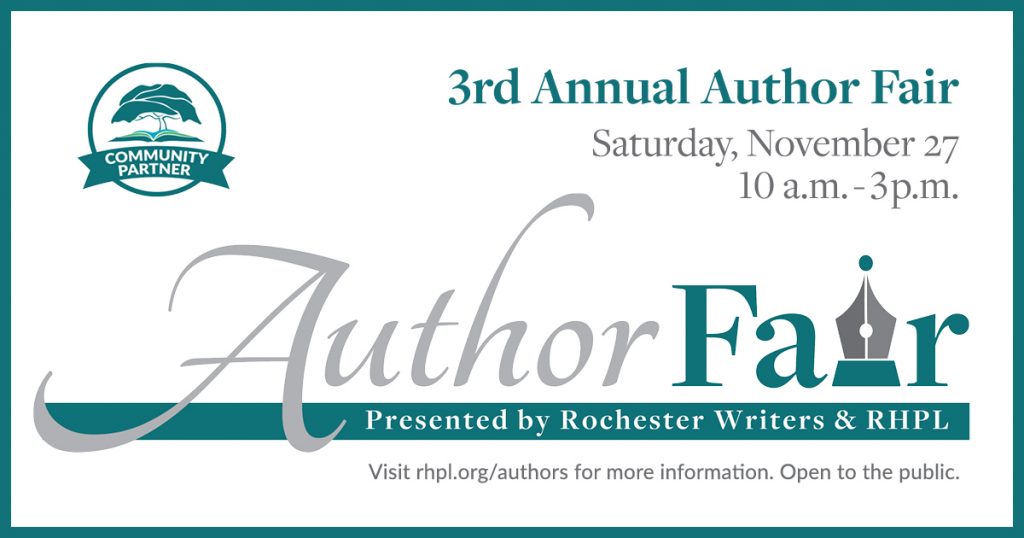 Open Mic Author Fair
Tuesday, November 30
6 PM @ the Sterling Heights Public Library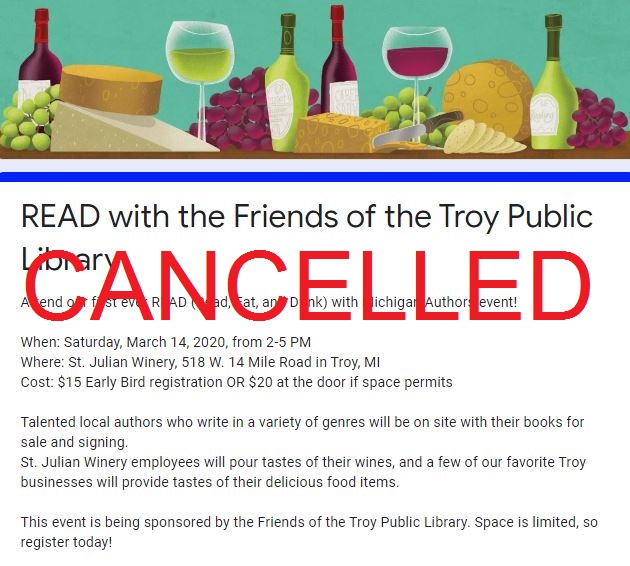 I'm the featured reader at Macomb Community Colleges WORDcraft Wednesdays!
Join me ~
You can read some of your creative work!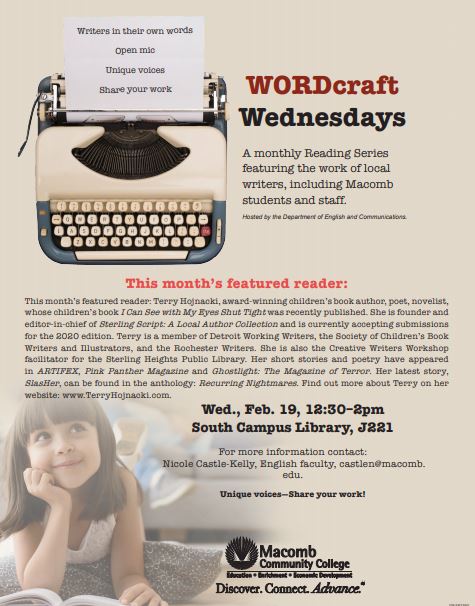 My illustrator and I will be selling and signing our books at

Christmas in the Village
in Roscommon
on December 7 from 11 AM - 8 PM
606 Lake Street

We'd love to talk writing and drawing.
Come visit us up north on Saturday.


This is my last scheduled event for 2019.
Hope to see you there!
Past Events:

November 30, 10 AM - 4 PM at the Rochester Hills Public Library inaugural Shop Small Saturday Author Fair, Rochester

November 23, 10 AM - 3 PM at Burr Elementary School at the Burr Holiday Craft Fair, Sterling Heights

November 9, 9 AM - 4 PM, in Clawson High School at Christmas in Clawson Holiday Craft Show, Clawson.

November 2, 9 AM - 4 PM, in the Warren Community Center at the Holiday Craft and Vendor Show in Warren.

September 28, 12 - 3 PM in the Michigan Author Showcase at the Made In Michigan Festival in Allen Park.

August 4, 10:00 AM - 1:30 PM in the Michigan Author Tent at the Buy Michigan Now Festival in Northville.

July 27, 10 AM - 4 PM at the 5th Annual Local Author Book Sale at the Sterling Heights Library during SterlingFest.

July 21, 10 AM - 1 PM at the Detroit Festival of Books at Eastern Market with the Rochester Writers.

June 22, 10 AM - 1 PM at the Indie Bookfest at the Hilton Garden Inn in Troy.

May 19, 10 AM - 3 PM at the Write On Pointe Author Fair at the Grosse Pointe Library.

May 12, 12 noon - 4 PM Morse Elementary Book Bazaar in Troy.

Other events have included Ladies Night Out, Books & Authors at Lean & Lulu, Christmas In Clawson, Canterbury Village Author Event, Rochester Holiday Expo, and more.

School visits and writing presentations.